Floating Via Crucis in Lake Pellegrini

See map
The town of Cinco Saltos makes a very special event each year when we celebrate Easter. Besides the classic celebrations, Masses and Christian celebrations, in Lake Peligrini floating via crucis is performed.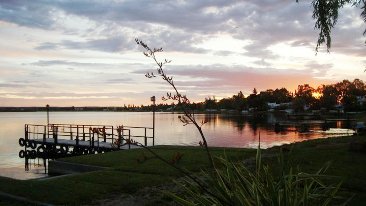 Sunset at the Lake Pellegrini.
A highly original proposal that has been developing since 2009 in the city. In 2011, the activity began on Monday, April 18 at 3 pm on the peninsula Ruca Có and it remained until April 24. Every day, at the same time you can appreciate this initiative so interesting either by following the activity in boat or on foot from the beach.
The event organization is in charge of the Coordination of Local Development, Production and Tourism of the Municipality of Cinco Saltos and the Parish Church San Juan Bosco. They say that one of the main objectives of the activity is to continue the call for local and from the Upper Valley people in the lake, so continue to take awareness of the value of natural resources and its tourist potential.
In addition, the Via Crucis is an example of how Cinco Saltos want to try adding proposals in unconventional days and continue the same off season.
Continuing with the religious festivals, on Saturday 23 and Sunday 24 of April from 11 am the Mass was performed by the parish priest Juan José Harmsen. It is developed in the area of ​​the tip of the beach.